Speedway with Jo

Well I was like a kid before Xmas once Roger had asked me to drive Jane Honda at the Glen! Talk about count down the sleeps! Seemed really strange driving out to the Glen without a car on behind. Caz and I kept checking the rear vision mirror and there was nothing there. Hmmm!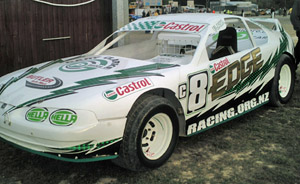 Does this mean I'm a works driver! Just turn up at the track and the car is all ready? And a rather immaculate looking car it was. Oh dear....hope I don't crash it. Knew I wasn't going to hit anyone (yeah ...right!) cos I was going to start off the back of the field each race. My biggest worry then was that I was going to drive it like a granny and everyone would lap me. Malcolm saying "I'm going to get you" at least 12 times didn't do much for my confidence. He was laughing and I did too....outwardly! So the "let's lap Jo" challenge was on. Fluffy didn't turn up. He knew there was every chance I would beat him. (Yeah.....right! ....again)

In the car I hop. Nothing fits. I can't reach the pedals. The seat leans backwards. I cant see over the bonnet. And.....holy moly it's left hand drive! Pedal adjustments occur, cushions arrive.....it's still left hand drive. I'm out on the track so early for wheel packing I wonder if there will be enough fuel left for me to race. Got to get used to the car though. Hmmmm - doesnt feel too bad. Still left hand drive! We're getting into our grid positions ready to race. Eeek! There's someone on the inside of me. That wasn't part of the deal. We're under green but we don't seem to be going that fast. Are we still packing the track but just faster? Are we racing? Blonde I know but oh so different from productions! I actually think if I put my foot down I might be able to pass someone here. Oh no...it's my mate Jason. He's gone a bit high. I might sneak through on the inside. So I put my foot down at about the same time Jase decides he might race a bit lower. CRASH! Straight up the back of him. There's goodbye to at least $1000 I thought. (I bend it I fixed it was the deal). Had no idea how resilient fibreglass was though and I was VERY surprised to find out back in the pits that it was all fine except for a wee bit of red paint. Phew! I was also very surprised to find out that in that race I did the 4th fastest lap time! And I was even more surprised that no-one lapped me. And somewhere along the way I passed someone. (OK -it was Jason but he got me back superbly).

Race two and race three went without incident (apart from the near miss with the wall) and by then I was wishing it was my car and I didnt have to be so scared about damaging it. ( I still have a very vivid memory of writing out a $6,300 cheque to fix Dean Buist's Evo after the Ashley Forest Hill climb. The only redeeming feature about that was I was sitting in 14th place after day one with a 1 min 10 sec time.) I suppose I should mention the "nearly hitting the wall" incident. Things just got a bit wobbly - I like to think they were speed wobbles but somehow I think not! Then........the wall jumped down at me! The $6,300 cheque flashed through my mind and somehow I managed to save the moment. I have to admit at that stage I was laughing inside my helmet thinking about Roger having an apoplectic fit watching his car that he had just sold about to become fodder! I did give him the thumbs up as I drove past but I think he still had his eyes shut. I should also thank the new owner at this stage for giving the ok for me driving the car and yes.......I got your message on Macgors about not making the wall my friend.

What more can I say? Thankyou Roger and Pam, thankyou to your wonderful pit crew and Kev (my pit crew who slid into the green uniform far too easily!) and thankyou to all the A Grade drivers for making me feel so welcome.What a neat bunch of guys.

Cheers Jo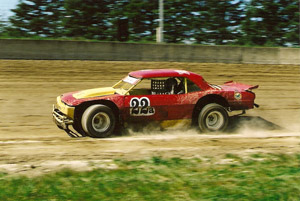 Celebrity Invitation race at Ashburton driving Rick
Donnelly's Victor. This is where I got the bug for
speedway when I won the event over two races.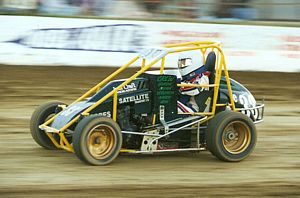 Invited to race a TQ Midget at Ruapuna ...
and I actually beat somebody!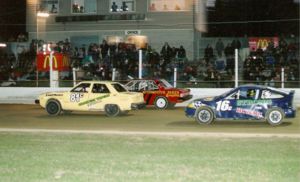 Mitsubishi Tredia, first season at Woodford Glen ...
Must be the start of the race because I'm
beating Willie & James!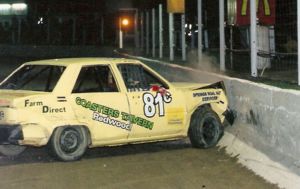 Tredia in wall ... oops! ... two broken ribs later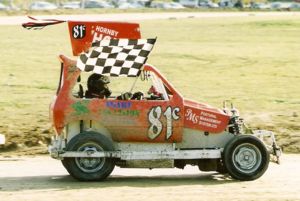 Somehow managed to win a race in Dean Franklins Ministock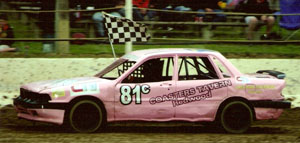 Mitsubishi Galant, Season 2 ... Okay I said I would run around
the track naked if I ever won a race at the Glen, but this
seemed inappropriate as we needed the crowd to stay!